We are grateful to the nearly 75 senders around the Upper Valley who purchased a Singing Valentine for a loved one or dear friend during our February promotion. We loved delivering messages of friendship and warmth to schools, businesses, restaurants and homes from New London, NH to Randolph, VT, and from North Haverhill, NH to Springfield, VT. Please come again next year!
As we are now in the midst of the spread of the COVID-19 virus, neither the North Country Chordsmen nor the VoxStars choruses will be accepting new performance requests through at least the end of April.
One or more of our quartets may be available at their choice during this period.
We have suspended rehearsals through March, hoping to resume in April unless the restrictions on group gatherings are continued.
We hope you all are following the CDC recommendations to help slow the spread of the disease, and wish you success at staying out of its reach.
Annual Show
This year's special guest quartet will be Signature, the 2nd place Silver Medalists at the 2018 Barbershop Harmony Society International Convention in Las Vegas, Nevada, this July.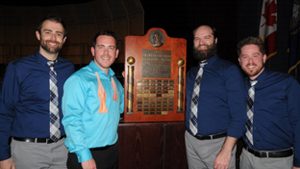 The NCC's 2019 annual show will take place on Saturday, September 28, 2019. Please check back for more details.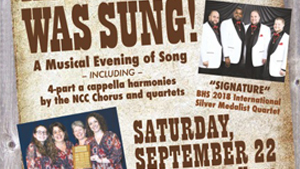 As usual, our 2018 show was a huge success, stay tuned for details about 2019's show being held September 28th.