THANK YOU UPPER VALLEY AND BEYOND!! for the 105 Singing Valentines orders the Hanover Chapter received this year!
Orders arrived from as far away as Cape Cod, MA, and Chile, South America (where one of our own members has been stranded by Covid-19 during a southern hemisphere summer, poor guy)!!
Since November, our chapter's TWO choruses (the North Country Chordsmen and the VoxStars) have been rehearsing in-person and indoors while practicing social distancing and wearing masks. We use what's come to be called "driveway choir technology": wireless microphones and FM headsets. The mics send each voice to a mixer which in turn broadcasts a low-wattage FM signal picked up by the headsets.
Our choruses performed a 2020 holiday "drive-by" concert in West Lebanon and a holiday "park-nearby" concert In Plainfield, broadcasting on FM 90.1 to crowds that honked their approval. It was a bit chilly for the singers, but our hearts were overflowing with warmth!
It's been wonderful to be able to sing simultaneously with each other, though using the technology takes newcomers a few tries to master. We welcome all who wish to come sing with us – even during COVID-time, both choruses have managed to add new members!
While we cannot be certain what the future will bring, we do hope to be performing in person to in-person audiences sometime this summer or fall. Please watch our website and Facebook for announcements. Click on the Contact tab above to share your thoughts, to find out more about us, or just to have a conversation.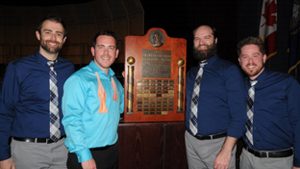 The NCC's 2019 annual show will take place on Saturday, September 28, 2019. Please check back for more details.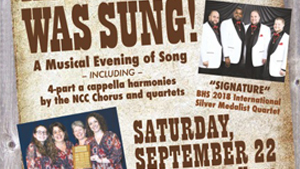 As usual, our 2018 show was a huge success, stay tuned for details about 2019's show being held September 28th.