VALENTINE'S DAY IS TUESDAY, FEBRUARY 14, 2023
It's THAT time of year!! Once again, the Barbershop Harmony Society, Hanover, New Hampshire Chapter is offering both in-person and virtual singing valentines. Let us help you make someone's day extra special this year, whether they are your dearest love, your best pal, a new friend, a co-worker, a distant relative, or a great group of friends or colleagues.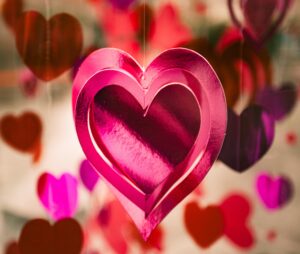 Send a Valentine's Day greeting to arrive on TUESDAY, FEBRUARY 14, 2023
IN-PERSON LIVE DELIVERY
From 8:00 AM to 8:00 PM on February 14, and within a 25-mile radius of Hanover, NH, the Chapter will send a quartet of smartly-dressed singers to your Valentine at home, at work, at a restaurant or elsewhere, to sing a couple of songs, and to deliver both a rose to mark the occasion and a card containing your personal message.
VIRTUAL SINGING VALENTINE GREETING
The Chapter will make an introductory video containing your personal message, include on a video quartet singing a Valentine song, and deliver it to your Valentine's e-mail address (with a copy sent to your e-mail address) arriving at 12:01 am on February 14.
Thank you everyone for your patronage this year. We've concluded our online ordering for this year, as we now work on the the delivery logistics. We look forward to continuing to share our music with all of you even more in the year ahead!